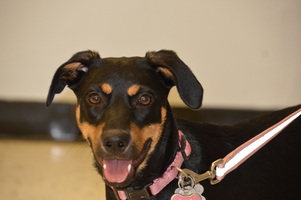 "You've made a wonderful impact on our ability to relate and manage LouLou. She's doing great."

"Joyce was able to teach Calli more things than I honestly thought possible, including fun tricks to show our guests and good doggy manners so she doesn't jump on or bother them when they visit! They also had a blast together."

"When we started having behavioral issues with our rescue-hound we called Joyce, and we're all (people and dog) better for it! She gave us clear, insightful advice tailored to our specific problems .... Joyce is a careful listener/observer, and she provided a simple and practical training program that fit our lives and skills. Training is even fun (for canine and human). Best of all, Joyce's suggestions have strengthened our bond with our dog and work well to address our issues. As a result, having our pup once again feels like a stress-reliever rather than a stress-creator. "

"In short, working with Joyce provided my pup and I with needed skills and confidence to enjoy life together with less chaos and more puppy joy!"

"OMG you're super thorough."